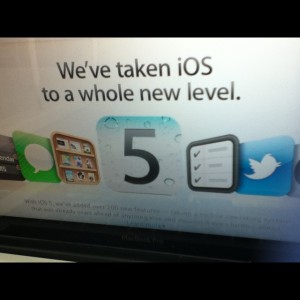 So last week iOS5 has been released with all the new goodness that it brings: notifications, iCloud and general usage tweaks to make it all a better experience. We did cover iOS5 in Corner Geeks Episode 5 Part 2 – iOS5 and Episode 5 Part 3 – iCloud.
You will need to update iTunes first before you can update your iDevice. Ensure you authorize your computer, if not you will not be able to restore you apps and media (if you backed up and restore contacts and messages should be restored). Also remember that there is always a risk when updating your firmware.
Conventional Method:
Connect iDevice to computer
Authorize the computer
Sync your device
Press the update button to download and update to iOS5
Direct IPSW Download Method:
You can also do a direct download of firmware updates (especially useful if you have multiple iOS devices of the same version) to save download times.
Download the appropriate ipsw file
Connect iDevice to computer
Authorize the computer
Sync and Backup your device in iTunes
Shift + Click Restore button (or Command + Click on OS X)
Select the approriate ipsw for your device
Once restored to iOS5 you can restore for the last backup (to restore data) and sync to restore your apps and media
MD5 hashes
The follow are the MD5 hashes of the firmware files that I got from the downloads. All have been verified with other online sources except for iPod Touch 3G
iPhone4: iPhone3,1_5.0_9A334_Restore.ipsw
8ac7ae6a7f6fadbd34ba9abacd15e2dc
iPad2 WiFi: iPad2,1_5.0_9A334_Restore.ipsw
ddd7bc45b65aeed8308d12facf4c32b0
iPad2 WiFi+3G: iPad2,2_5.0_9A334_Restore.ipsw
95ff7c4a311919f04985bade7d184731
iPad Wifi: iPad1,1_5.0_9A334_Restore.ipsw
729c72a9880b82b37aef5997173d9578
iPhone 3GS: iPhone2,1_5.0_9A334_Restore.ipsw
54aa71d20263580653eafd06064c557c
iPod Touch 4G: iPod4,1_5.0_9A334_Restore.ipsw
29ead00d2726f688d393a5fdd0de4a97
iPod Touch 3G: iPod3,1_5.0_9A334_Restore.ipsw
989b8327acab76e7632443a0e179250c
To get the full iCloud integration/features there is an OS X Lion update and a Windows iCloud control panel (for Vista or later). Sadly Photo Stream is only available for iPhoto '11 or later or Aperture 3.2 or later in OS X while in Windows you need Outlook 2007 or later for mail, tasks and contacts iCloud integration.
Overall this is a great update for notifications, wireless syncing and iCloud. While they did copy Android's notifications, Apple also added functionality by being able to have notifications on the lock screen which can be acted upon directly by swiping the notification.
iCloud, wireless syncing and future incremental upgrades (instead of downloading 700MB+ update files) should bring an overall better experience to iOS devices and now let's see how Android responds with Ice Cream Sandwich.

Download link: iOS5 has been released for your iDevice!