Corner Geeks
:
Geeks in a corner, talking tech
We discuss singular topics with regards to technology news or technologies
Gagalcast
:
because we all fail sometimes
Random technology related chatterings
Corner Geeks Videos
:
Reviews, "How-To"s and the like
May 3, 2013 by thewheat
Podcast: Play in new window | Download (Duration: 1:04:34 — 29.6MB)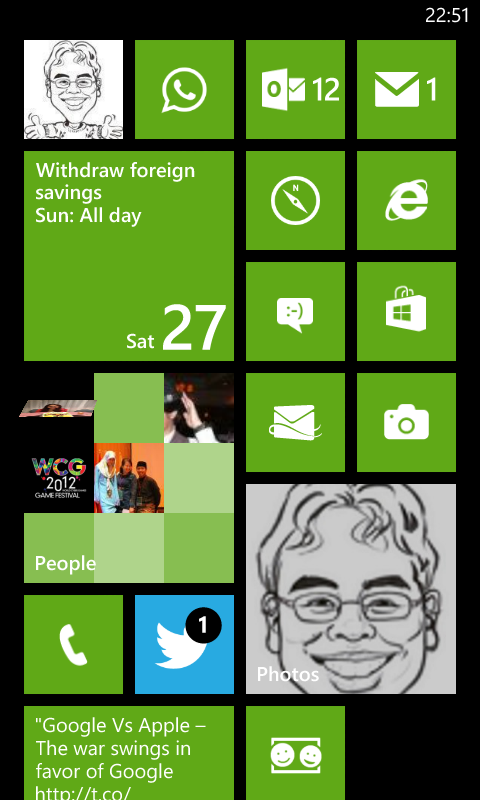 Lumia 520 for AUD$176

Specs don't really matter because it's a pretty good experience
512MB RAM which limits some heavier apps but still a pretty smooth experience. Much better than cheap Android phones

Good Polish unlike Android back in the day that had a lot of rough edges

In between iOS and Android but closer to iOS
Find my phone
Sky Drive Integration

Save Photos automatically

can't seem to enable only on WiFi so may be hazardous to your 3G data
doesn't upload screenshots

Office Documents synced in the cloud

Office
Bluetooth transfer data migration
Consolidated settings (like iOS) but also and in app
Glove usage! (probably a Lumia feature)

Good Features

People Hub
Bluetooth image sharing!
Has Android like intents/sharing of data to other apps. E.g. from photo app, can share photo to apps like WhatsApp / Email / any app that supports receiving images

Gripes

App selection still small. No official Dropbox app, no instagram
Search page is not a web page. E.g. Search in browser address bar brings you out of the browser to the search page, and clicking a link in the search page goes back into the browser
Sharing Intents inconsistent

But doesn't seem to work for all things… Can share photo (.jpg file) from camera to WhatsApp but cannot share screenshot (.png file)  to WhatsApp. Can't share URL to WhatsApp.
Perhaps more of a non-mature app ecosystem rather than Windows Phone fault. App developers need to program their apps right

Notifications could be better

If app is a Live Tile, then you can see the notification number
If app is not a Live Tile, there is no easy way to know what app caused the notification (iOS has it best with badges)

No quick toggles

Have to go into settings to turn things on and off similar to iOS (e.g. enable/disable data / WiFi)
Hard to toggle vibrate

Can't disable screen rotation. Less sensitive than Android which is good.
No file explorer or file system like Android
No auto-sign in like Android for Google sites

Switching apps shows "Resuming…" quite a bit. More to do with how Windows Phone handles apps. Could be due to limited memory of 512MB and may not occur with higher end devices with more RAM
No Bluetooth tethering (available in iOS and Android)
Links
(contract post)
(show entire post)
• • • • •
April 27, 2013 by thewheat
Podcast: Play in new window | Download (Duration: 27:09 — 12.4MB)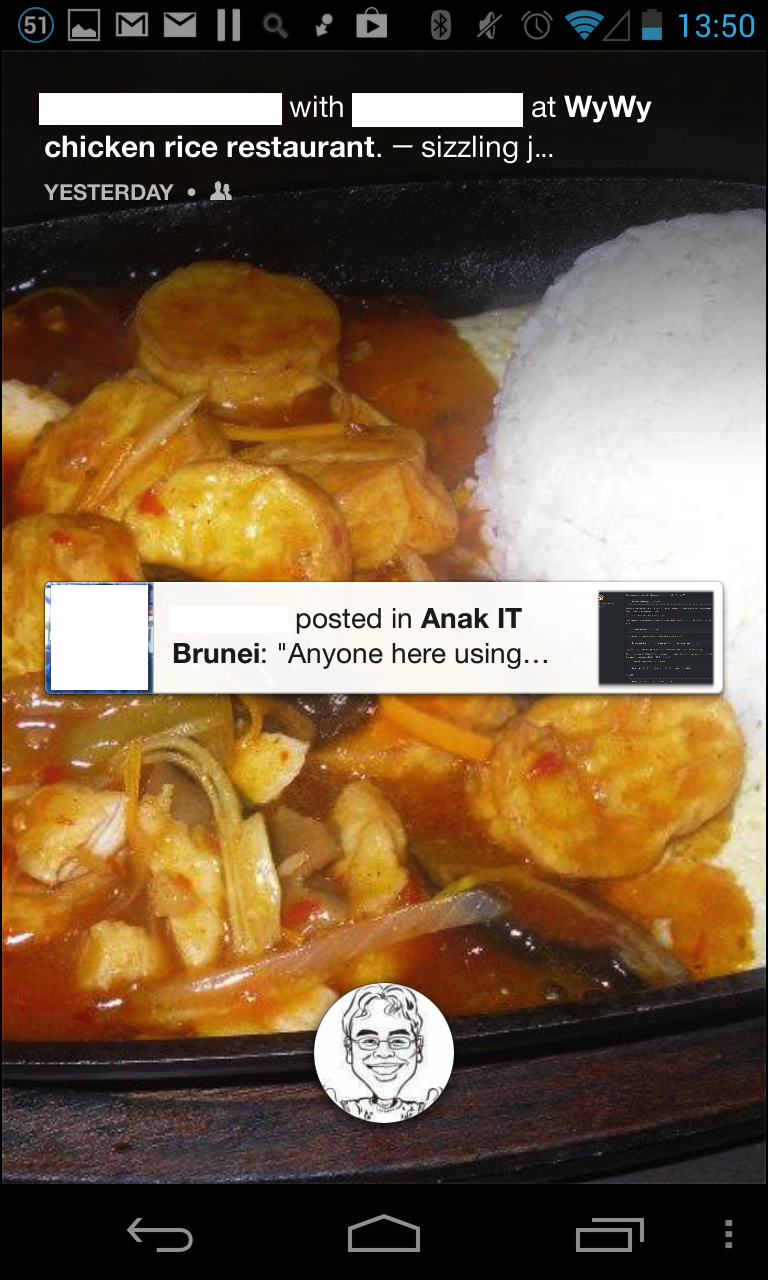 Makes Facebook so much easier to access
Even I found it fun to use even though I don't like to
Not good for those with ADD

Seems to bring new pic/updates each time you turn it on

No way to filter who appears on home screen

Possible embarrassing photos shown in public / accidental leakage of personal information or photos

Limited launcher

Only Facebook notifications on home screen (notification drawer still available from the top)
No widgets / Folders

Chat heads is not a Facebook Home feature: it's a Messenger feature.

Also available for iOS but with limited functionality (jailbreak gives you OS wide functionality)
First app to bring drawing over apps to mainstream
Scared of possibilities: pop-up ads!
Links
(contract post)
(show entire post)
• • • • •
April 9, 2013 by thewheat
Podcast: Play in new window | Download (Duration: 39:06 — 17.9MB)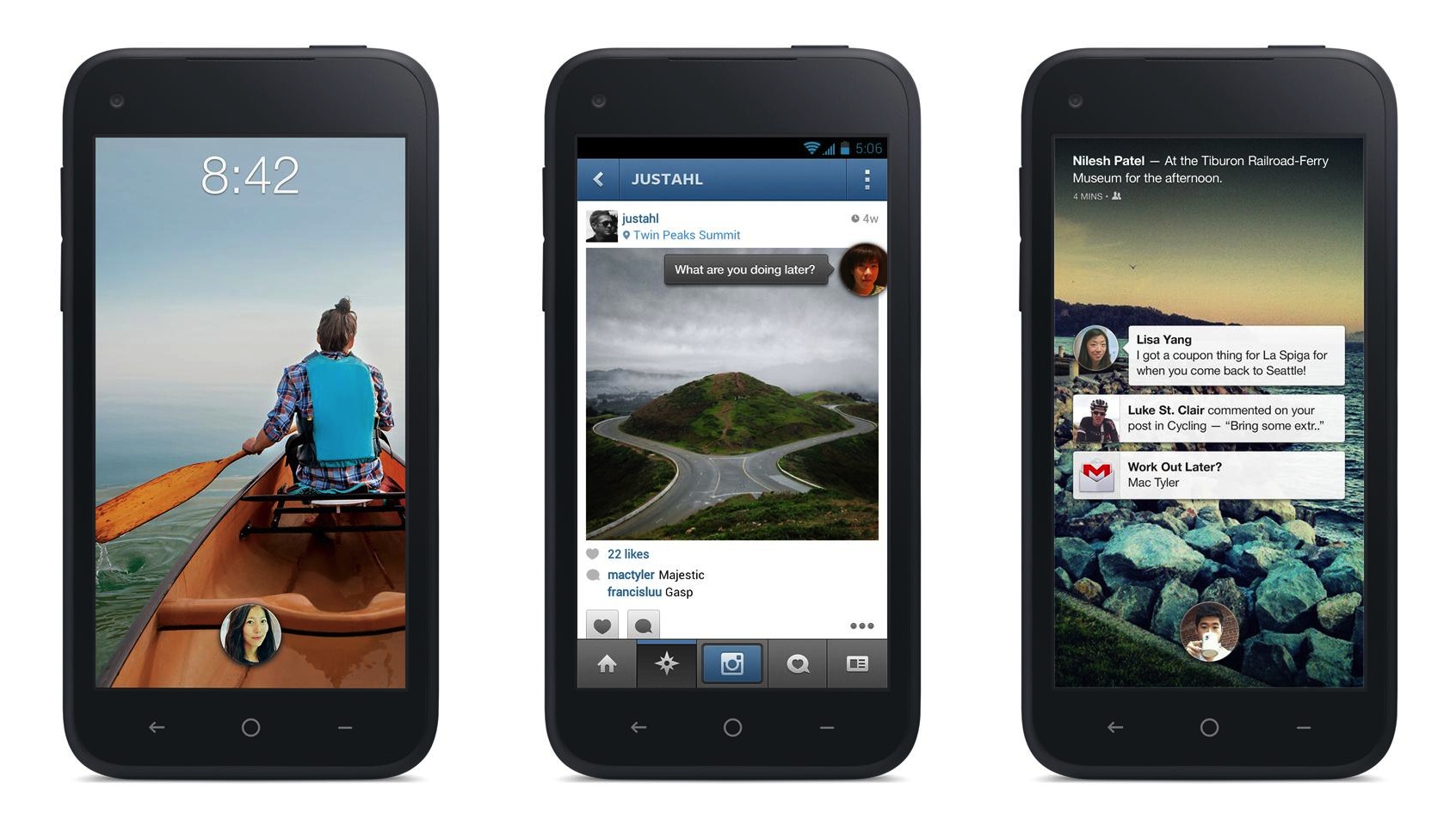 An Android lock screen/home screen/app launcher and that focuses around people not apps
More that just a widget it's a full experience
Cover Feed

First thing you see when you switch on: a lock screen with status updates & notifications
1 status update per page, swipe for more

Background status image / profile image that pans slowly
Press to show full view
Double click to like
Like and Comment buttons in the corner

Circular unlock

Uses your Facebook profile photo as an icon to swipe
Swipe up – apps

Swipe left for all apps (app drawer)

Swipe left – messages
Swipe right – last used app

Chat Heads

Overlay icon of people who you are chatting with
Shows over any and all apps
Can drag anywhere but docked to screen edge
Throw to bottom dismiss

Facebook Notifications on lock/home screen
HTC First – mid ranged phone for the masses with Facebook Home pre installed.

Gets full Android notifications (e.g. Calls, texts, mails) on lock screen vs only Facebook notifications for other phones
Back, Home & Menu capacitive buttons
Links
(contract post)
(show entire post)
• • • • •
March 23, 2013 by thewheat
Podcast: Play in new window | Download (Duration: 31:04 — 14.2MB)
After much fanfare there S4 was finally revealed and it seems more of an upgrade to the S3 itself but with the latest version of Android and a lot of Samsung software tweaks (some of which should be coming to the S3 as well), The S4 is bigger (screen-wise and feature wise) yet physically smaller and lighter when compared to the S3 (130g vs 133g).
Upgraded specs:
Processor (new quad core / an octa-core vs dual core / older quad core – market dependent
Screen (5" vs 4.8")
Cameras (13MP vs 8MP)
Battery (2600mAh vs 2100mAh)
Specifications
5″ (4.99") Full HD Super AMOLED 1080p screen (1080×1920, 441ppi)
Android 4.2.2
16 / 32 / 64 GB storage with microSD card slot
2GB RAM
Similar dimensions to S3 but thinner narrower, lighter
13MP rear camera, 1080p video
2MP front camera, 720p video
2600mAh (removable)
3G & LTE (all LTE frequencies – global roaming)
New/Notable features

802.11ac (Typical WiFi, NFC)
IR LED for remote control functions

Still has microSD & removable battery
Extra Sensors: IR Gesture, Temperature, Humidity (in addition to Accelerometer, RGB light, Compass, Proximity, Gyro, Barometer)
Available starting end of April and will be available in 155 Countries
Software Tweaks
Dual Camera: uses rear and front photos & videos (front video can be toggled as an overlay during the video which recording)
Sound & Shot: 5 seconds of audio before/after photo
Drama Shot: composite multiple shots (over 100/ second – choose which ones to composite)
Eraser: remove unwanted bits in the photo
Cinema Photo: make cinegraphs
Air view: hover over items to reveal more info (like stylus hover in Note II / mouse hover). Use front camera.
S Translator: text to speech and speech to text

9 langauges: English, French, German, Italian, Latin-Amera, Spanish, Chinese, Japanese, Korean, Brazilian Portugese
Offline support
Integrated into Samsung apps
Optical reader app –  so you can take a photo of signs and menus to translate them.
Adapt Display: adjust brightness, saturation, contrast depending on what is being used
Story Album: automatic photo album creation (e.g. uses location to detect holiday). In-app purchase of physical albums
Samsung Home Sync support

Home Sync is a physical device with 1TB personal
Phone, TV, tablet, PC connectivity
NFC tap to connect

S Voice Drive: S Voice with interface for driving
Samsung Smart Switch: for migrating data from 'any' smartphone to the S4
Glove support
Samsung Hubs: video, book, games store
Samsung Knox: separates work and personal space
Group play: sync devices to play music together. Games support it.
ChatOn

Dual Video Call: uses front and rear cameras for video chat
Screen share

Air Gesture: navigate by swiping hand over camera: scrolling, previous/next photo (S3 had something like this)
Smart Pause: pauses video when you look away and resumes when resume looking
Smart Scroll: tilt device to scroll
S Health: health monitoring

Keeps and tracks different data with the help of accessories

S band, Body Scale, Heart Rate Monitor

Tracks

Calorie Consumption / Burned

Sleep Pattern
Heart Rate
Exercise
Weight
Blood Sugar & Blood pressure
Accessories
Pouch
Flip Cover
Protective Case
S View Cover: transparent section to view things like caller ID
Links
(contract post)
(show entire post)
• • • • •
March 16, 2013 by thewheat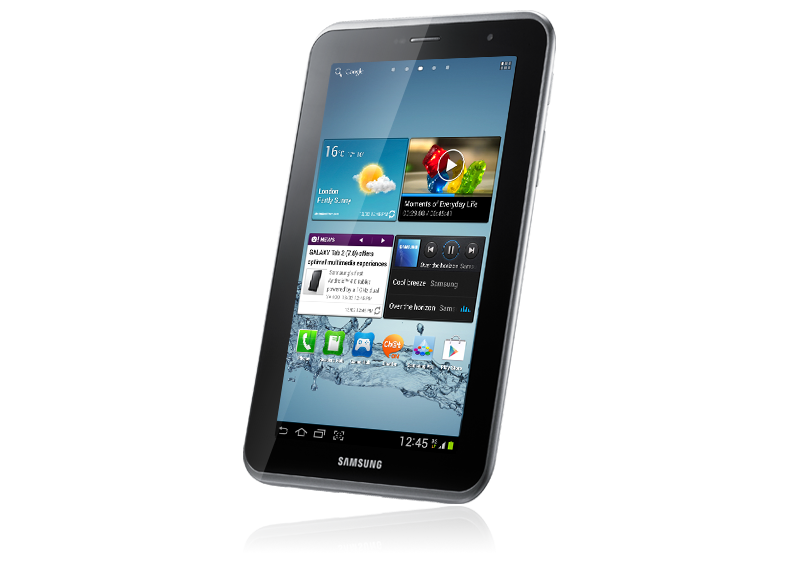 A budget 7″ tablet with 3G capabilities, it serves as a good all in one device but is a bit sluggish. Small and mobile, yet provides good real estate for reading and browsing the web.
Great battery life especially if Samsung's power savings enabled. With 3G on all day will leave the office with 60+% at 5+
All in one device having dual cameras for typical photo/video taking (rear camera) as well as video calling (front camera)
microSD card slot and USB-OTG for added expandability and capabilities
Phone calls can be taken privately by holding the tablet up to your ear (without the need for a headset)
Tablet UI allows more information to be displayed on screen
Flash is supported in the Samsung browser
Fix focus rear camera (macro shots not possible). Also no camera flash
Screenshot button that is too easily pressed (can be fixed if rooted)
Proprietary connector
A big sluggish and not a totally smooth experience
The Ugly
1 GHz Dual core with 1GB of RAM isn't enough to run the Android 4.0 smoothly (at least with TouchWiz on top)
Links
Specifications
1 GHz Dual-Core Processor
7" WSVGA (600X1024) screen
Android™ 4.0 (Ice Cream Sandwich)
Main (Rear) : 3 Megapixel Camera (fixed focus)
Sub (Front) : VGA for Video Call
8 / 16 / 32GB User memory + 1GB (RAM)
microSD (up to 32GB)
4000mAh Battery
Proprietary Samsung connector
USB OTG support (USB drives, mouse, keyboard)
HSPA+ 21Mbps 850/900/1900/2100
Wi-Fi 802.11 b/g/n, Wi-Fi Direct, Bluetooth 3.0
Size : 193.7 x 122.4 x 10.5 mm
Weight : 345g
(contract post)
(show entire post)
• • • • •
March 7, 2013 by thewheat
Podcast: Play in new window | Download (Duration: 50:09 — 23.0MB)
Listen to @mfirdaus' journey into Android from the world of iOS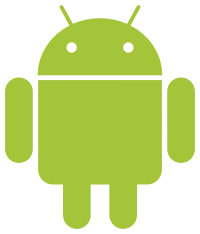 Show Notes
Customisation

Android customisation is outstanding: much easier compared to iOS
Widgets on the home screens / lock screen (view Twitter / Facebook / Instagram / Google+ items)
Quick toggles in the notification drawer or on the screen itself (toggle WiFi / GPS / Mobile data, etc)
Apps mentioned:
Other Notable Apps:

Notifications

Lock screen notifications on iOS are better
Android doesn't provide the same API as iOS does and requires that the lock screen to know the app first before being able to show a notification for it.
Android 4.1′s advanced notifications don't seem to be in all apps

Fragmentation

Default Android apps overridden by manufacturer customisation (e.g. Samsung camera app / S Planner instead of the standard camera / calendar app found on Nexus devices)

Responsiveness & Web Browsing

iOS generally has a better snappiness and responsiveness but with Project Butter in Android 4.1, Android seems to be on par (at least on newer devices)
iOS seems better in terms of performance and responsiveness for web browsing and PDF viewing
Older iOS devices will probably be better than current mid-range and budget Android devices

File System

Android has a full file system that all apps can read all files.
iOS has a limited file system. All apps have their own file system readable by their own app but there are some shared file systems 'folders' such as the photos
iOS has certain files grouped/tied into different apps: photos in Gallery, PDFs in iBooks. Simple but provides easy access vs Android that requires a file manager.

Sharing

Android sharing intents allow passing files from one app to another via a standard sharing method. Makes workflows simple and straight forward
iOS can only share to limited apps (Twitter, Facebook, Email)
Advanced iOS sharing doesn't seem to be fully implemented properly in all apps (open a PDF in Safari has an "Open in…" button which doesn't show if the PDF is opened in iBooks)

Apps

Still many iOS first or iOS exclusive apps
Not many Android only / exclusive apps

App Development & Testing

Android easier to develop on actual hardware: you can develop and copy files to any device
iOS requires a jailbreak or USD$99/year for a developer account just to use / test it on a physical device
iOS requires a Mac, Android is cross platform (Windows, OS X, Linux)

Other things not mentioned

Default Apps

Android can define default apps and keyboards, e.g. you can download a new browser and set it as your default browser when opening any link.
iOS it can't be changed at all
Android keyboard customisations are very powerful and you could download a keyboard that suits your needs more. Personally I like Swift Key due to their arrow keys on the keyboard which I find easier for editing typos.

Direct File Transfers

Possible without specialised apps
NFC, WiFi direct, Bluetooth enable it via "Share option" in file managers

Updates

iOS has a solid and better OS upgrade path
Android upgrade path is slow especially for non Nexus devices. Even for Nexus devices, the update is not instant (can take a few weeks to roll out)
Credits:
The Android robot is reproduced or modified from work created and shared by Google and used according to terms described in the Creative Commons 3.0 Attribution License.

Podcast music by www.lucadebernardi.com
(contract post)
(show entire post)
• • • • •
July 15, 2012 by thewheat
Podcast: Play in new window | Download (Duration: 30:03 — 13.8MB)

Google I/O 2012 links: I/O website, Day 1 video, Day 2 video
Day 1

Google+ Events

Party mode that shares all photos to the event page
Calendar integration: ensure to disable showing events that you have been invited to and not accepted to show in calendar

Google Glass Explorer Edition

US$1500. Sky diving, bike stunt, repelling approved

Day 2

Chrome for iOS

iPhone & iPad
With features like tab syncing, and password synchronization

Google Drive

Now available for iOS and Chrome OS
Optical Character Recognition (OCR) on images – can search for text in photos
Intelligent image search (e.g. search for pyramid and it can retrieve photos with pyramids in it)
Built into ChromeOS

Google Docs Offline

save changes when offline and uploads when online

Google Compute Engine
(contract post)
(show entire post)
• • • • •
July 13, 2012 by thewheat
Podcast: Play in new window | Download (Duration: 29:09 — 13.4MB)

Google I/O 2012 links: I/O website, Day 1 video, Day 2 video
Android 4.1 Jellybean
Overview of new features, API Notes & official changelog from Google
Project Butter
Notifications improvement

Actions straight from notifications. No need to open app

Call person from missed called
Email all attendees for meeting
+1 or share straight from the notifications

Different views: normal (text snippet), bigger view (with lots of text), picture view (with images)

Google Now

Siri / S-voice competitor
Based on knowledge graph to show results based on context
Card based interface with each card showing information
More than just text as text answers: photos as well. With Google search at the bottom
Natural sounding voice
Proactive digital assistant giving automatic reminders / information based on context. Example: reminds you that you should leave in 5 minutes in order to meet your appointment due to traffic on the highway. It has your scheduled information in the calendar, it knows the route and traffic you should take and calculates the time it would take to reach destination.
 Google now creepy knowing your behaviour but gives relevant results

Offline voice typing: core engine shrunk to work offline, but if there is an Internet connection it works better
Homescreen improvements: when placing new widget on a screen it will automatically reflow icons to fit it or shrink the widget in order to fit it on the screen
Predictive keyboard. New keyboard layouts and languages. User installable keymaps
Accessibility improvements – gesture mode with speech guidance. USB/Bluetooth Braille inputs
Camera tweaks. Swipe to review. Tap and share.
Android beam: initiate transfers via NFC and now allowing larger transfers via Bluetooth
WiFi network and WiFi direct service discovery: find services available via device son the network (e.g. printer) or via an app on another Android device (direct P2P without a need for a network)
Developer Related Features
Update over the air for Galaxy Nexus, Motorola Xoom & Nexus S in mid July
SDK available today
App encryption: all paid apps encrypted with a device-specific key before they are delivered and stored on a device to prevent piracy
Smart / Delta updates

Automatically handled by the Play Store
Support for Android 2.3 Gingerbread & above
1/3 the size of regular updates

Android Device Messaging C2DM now called Google cloud messaging

Multi-casting
Free. No quota limits

Android Platform Development Kit

For hardware manufacturers
Given new version 2-3 months before release (for better / faster updates)
Note: Image licensed via Google under CC-BY
(contract post)
(show entire post)
• • • • •
July 11, 2012 by thewheat
Podcast: Play in new window | Download (Duration: 19:58 — 9.2MB)

Google I/O 2012 links: I/O website, Day 1 video, Day 2 video
The creation from Project Tungsten 'home automation' mentioned in Google  IO 2011
Streams music / video from Google Play
A social Jukebox – multiple users can control the playlist and add items from their Play content
Phone / tablet as a controller
NFC enabled: tap to download software, pair over Bluetooth
Allows streaming to different devices/rooms
25W amp built-in
Optical in (S/PDIF), Banana jacks, ethernet, micro USB, micro HDMI
802.11 a/b/g/n, Bluetooth, NFC
Dual Core CPU (same as Galaxy Nexus) 16GB, 1GB RAM
Made in USA
US$299
More at the Nexus Q site
Google Play
Largest eBook collection
Adding:

Movie purchasing (previously just rental)
TV shows (episodes & seasons)
Magazines (with possible 14 day trial)
7" (1280×800 screen), Quad core CPU, 12 core GPU
Android 4.1 Jellybean
Up to 9 hours video playback
340 grams (same weight as Galaxy Tab 7.7)
MicroUSB for data and charging (no proprietary cables)
Front facing camera only
No 3G / microSD
Homescreen only portrait
US$199 (8GB) / US$249 (16GB)
Ships Mid July to US, Canada, UK, Australia
More at the Nexus 7 site
(contract post)
(show entire post)
• • • • •
June 23, 2012 by thewheat
Podcast: Play in new window | Download (Duration: 20:45 — 9.5MB)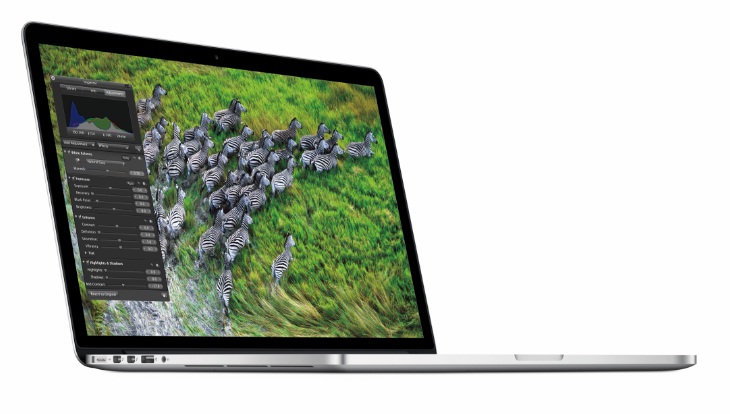 Specifications (Full specifications at Apple)
Thinner 15″ Macbook Pro with 4 times the resolution (2880 x 1800)
Quad-core Intel Core i7 (starting at 2.3GHz)
SSD based (starting at 256GB configurable to 768GB)
8GB RAM
Intel HD Graphics 4000 & NVIDIA GeForce GT 650M (1GB)
7 hours battery life
2 x Thunderbold ports, 2 x USB 3.0 ports, 1 x full HDMI port, 1 x full SD card slot, 1 x headset port
720p HD FaceTime webcam, 802.11 a/b/g/n WiFi, Bluetooth 4.0
Brunei Prices (via AV Electronics Facebook)
B$2988 (cash price): 2.3GHz Intel Quad Core i7, 256GB, 8GB RAM
B$3788 (cash price): 2.6GHz Intel Quad Core i7, 512GB, 8GB RAM
Links
Other notes
All laptops (Macbook Air and Macbook Pro) upgraded to new the newer Ivy Bridge chipsets and get USB 3.0 ports
Macbook Pro 17″ discontinued but still available in 13″ & 15″ (non-retina)
(contract post)
(show entire post)
• • • • •