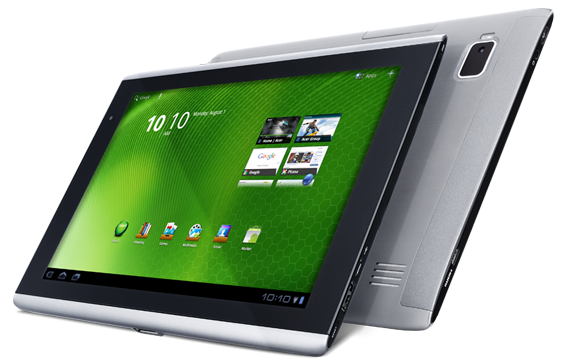 The Acer Iconia Tab A500 is the first Honeycomb tablet I've seen here in Brunei and is the first proper 10″ Android tablet. As with most Android tablets the specs are somewhat typical: 10″ (1280×800) with dual cameras running on the nVidia Tegra2. @mfirdaus and I managed to play around with the device for over an hour and below is the video overview we took of it. Below the video are further thoughts of the device and sample photos and videos from the device itself.
Full specifications (from Concepts and Acer specification pages)
Android Honeycomb(3.0)
10.1" (1280×800) HD Touchscreen
10.24″ x 7″ x 0.52″
10 points Capacitive Multitouch screen
1Ghz nVidia Tegra2 Dual Core processor
32GB built-in capacity
Dual Camera (2mp front, 5mp back)
GPS, E-Compass, 6-axis Gyroscope G-sensor (auto rotation)
Long life 3260mAh x 2 battery
Dual display (HDMI output) (micro HDMI port)
microUSB expansion slot (up to 32gb)
Physical USB port (Full-sized USB port)
Dolby Mobile dual speakers
Acer Clear.fi app
Acer Social Jogger app
Acer Photo Browser app
Preloaded games (NFS Shift, Let's Golf, Hero of Sparta)
Weight & Size
I have always thought 10″ tablets were a bit bigger than an iPad but in fact they are similar sizes: The A500 is longer and thicker but narrower than an iPad 2 (A500: 26cm x 17.7cm x 1.33cm, iPad2: 24.1cm x 18.6cm x 0.88cm). However the A500 is relatively heavy at 765g (iPad 2 is 601g), thus if you're holding on the device it can get tiring.
Screen
The 10″ screen was responsive and we didn't feel at real / noticeable / annoying lag or unresponsiveness. At a resolution of 1280×800, that is the same resolution as a lot of 13″ or 14″ laptops and is of higher resolution compared to an iPad: this means when browsing you should see more content. Speaking of browsing, with the great browser which has tabs and the ability to install Flash, this would make a great web browsing device.
Honeycomb and Apps
Refer to the previous post on A First Taste of Honeycomb (Android 3.0): in short there are not many apps optimized for Honeycomb and the large screen, but regular apps can still run.
Connectivity
The killer hardware features are the microSD card slot, full sized USB port and micro HDMI.
The microSD card slot enables you to add storage without buying a new device. If you're on a budget, just buy the lowest capacity device and add microSD cards for your media (do note that microSD cards could be slower than internal storage on device, but is probably cheaper and can be transferred to other devices in the future).
The full sized USB port means you can connect a regular USB keyboard to the device and start typing straight away if you really need to type out of an email / do word processing. This will easily make the A500 into a productivity device with the proper applications. The USB port also means that you can copy files to and from a regular thumb drive like a regular computer which is a great feature. I've heard that USB card readers do not work, but I have no confirmation on this.
The micro HDMI port means you can connect the device to a projector / HDTV with display mirroring (display on both device and projector/TV). While this is a great option, I still think an iPad 2 trumps with the VGA dongle because VGA is still very widely used and HDMI is not. For people wishing to use the device for presentations, I would think an iPad 2 with the VGA dongle would be much easier to work with. I don't believe there is an easy way to convert an HDMI signal to VGA without an external box, which means added cost and added items to bring.
Cameras
The front facing camera is a 2 megapixel while the rear camera is 5 megapixels (and also has a flash) however the picture and sound quality wasn't stellar: samples below. Do note that the device was covered with clear plastic which would affect both the video and audio quality but I wouldn't expect quality to be much better than what we got. Audio quality is pretty disappointing. Photos are stored in JPG format while videos in 3GP (H264/AAC).
Photos (jpg)
Videos (3gp format with H264 video and AAC audio)
Battery Life
We could not take the device home to test the battery life of the device but below lists battery tests from other reviews but most reviews say you can easily get an full days worth without issue.
Price
At B$728, the 32GB A500 is priced cheaper than a 32GB iPad 2 (B$798), but do note that a 16GB iPad 2 is cheaper (B$668). IMHO Concepts should have brought in the 16GB version of the Iconia Tab to undercut all iPad 2 prices because with most Android tablets you can add expansion via microSD cards.
Summary
As a consumer device, this is a great device for web browsing, reading and watching movies. If you have TVs/monitors with HDMI input, this is a possible media center device with a purchase of a microHDMI to HDMI cable or a microHDMI to standard HDMI converter. As an office device, this is a viable option is you have HDMI monitors / projectors. The USB port option is great for using external keyboards and transferring of files. Overall Honeycomb is still maturing and is hard to convince people with an Android tablet unless there is a particular function that they need/want that is available on Android or a specific tablet as the iPad, with iOS, has the advantage of apps. Would I get one myself? I doubt so, as I'm looking more of a 7″ device with USB host, VGA out (highly unlikely thus maybe HDMI out) and possibly 3G to wirelessly tether via a wireless hotspot so I may even look out for the Iconia Tab A100 which is a 7″ version that is coming out in a couple of months.
Other Useful Links