It seems that bdfone has finally released their first Android phone: the bdfone A2W. I previously mentioned them having a prototype over 1.5 years ago but it seems that they have finally got a production unit. From their Facebook page it seems to have started selling in December (in my last of connectivity, I must have missed it). It is currently priced at B$290 on QQeStore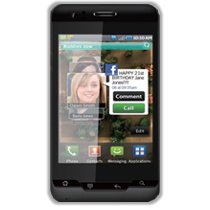 They have hit a good price point, but with an older version of Android (not even 2.3) and a relatively old and slow CPU, it seems to lose out to the competition. There is also no mention of resistive or capacitive screen, just a "touch screen". I also wonder how they will support Android updates or if they will at all. For the price I would recommend the Sony Ericsson WT19I Live with Walkman for B$308 (which has better specs) or even the LG Optimus Net P690 for B$268 (which has very similar specs).
Good
Brunei made Android phone
Decent Price
Bad
Competitors with better specs in the same price range
Old slow 600MHz CPU (other budget phones use 800MHz)
Ugly?
Unknown screen type
Unknown Android update possibilities
Unknown available space for apps
Specifications
Android 2.2
CPU: 600MHz (based on Wikipedia's entry on the MSM7227)
3.2 HVGA (480×320) screen
512MB + 256MB Memory
3.0M Camera
1500mAh battery
Connectivity: Bluetooth, GPS, WiFi, T-Flash Card aka microSD card (up to 32GB support)
Mini USB 2.0 for Data / Charger / Audio
Frequency band support: GSM: 900/1800/1900, WCDMA/HSDPA: 2100
Note: image taken from bdfone website. I'm not sure how to license images like this and thus I am following Wikipedia's policy similar to the usage of the Portal 2 logo. If there are any lawyers who could advise, please let me know.