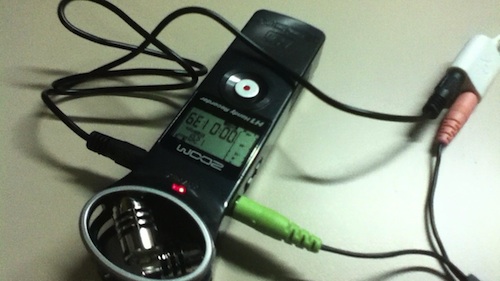 This is the first version of my podcasting setup that I'm relatively happy with as it is clean without too much things going on. I've used this for Corner Geeks and some Tech Talk Coffee Shop episodes.
If you're curious of what podcasting is, it is the production of podcasts. Podcasts are basically recorded shows that are downloadable off the Internet. Do listen to Simply Geek #8 – Podcasting where they discuss it in further detail. Those interested in podcast production check out Simply Geek #17.1: Podcast Production Part 1 and Part 2 that I had to opportunity to play guest in
I explain the process of my setup in the Youtube video below

Setup includes the following:
Zoom H1 – bought off Ebay for about US$100
Steel Series Mobile Devie Adapter – bought at Chong Hock in Kiulap for about B$26. This is needed as the MacBook Pro has a headset jack instead of individual stereo out and microphone in jacks
A regular headset
LineIn – a free software utility of OS X
An alternative to LineIn is Audacity (enable "Software Playthrough" in the Transport menu and click "Start Monitoring" in the input device) or LadioCast but LineIn is the simplest method for this setup. For Windows and Linux users, the Audacity method should work just fine.
If you have any questions, feel free to leave a comment or tweet me @thewheat and in the mean time listen to some Brunei-made podcasts: Corner Geeks and Talking Aloud