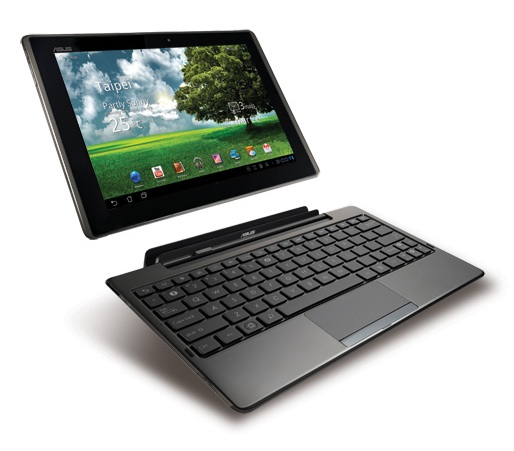 I came to know of the EeePad Transformer's existence in Brunei via Goh De No's article in the Brunei Times last week. The Transformer is an Android tablet but also a 'laptop/notebook' with the keyboard dock that adds functionality to make this an interesting device.
Specifications
Android 3.1 (according to Goh De No in the Brunei Times article)
10.1" IPS screen at resolution of 1280×800
NVIDIA® Tegra™ 2
1GB RAM
microSD card slot
miniHDMI
Keyboard Dock provides

keyboard + trackpad
2 x USB 2.0
1 x full size card Reader (MMC/SD/SDHC)
added battery to charge the slate
More specification details at: ASUS's Transformer page
Price: B$899 for the 16GB version with the keyboard dock at C.F. King in Kiulap (no non-bundled price available)
Android 3.2 is available to this device via the Transformer's download page and thus adds better functionality and compatibility with applications developed for phones with the new 'zoom' mode. This should scale applications up just like the iPad does for iPhone apps. While phone apps should install and run on Honeycomb tablets, the layout may look weird or even broken and this feature should resolve it.
While I'm saddened that CF King did not offer a price without the keyboard dock, the Transformer is a device that can have some productivity uses with the keyboard dock which allows the device to be used for up to 16 hours (the other 8 hours in the day can be used for sleep!). Damien from Carrypad is actually trying to use the Transformer as an enterprise productivity device and I'm curious to see the outcome of his experiment. Coincidentally he has just posted an article about week 1 of the Transformer usage.
Another thing interesting about the Transformer is that it will have a dongle to convert the HDMI to VGA output: a great tool if you wish to use it for presentations on the move, as VGA is still much more compatible and widely available on projectors. I believe this is the only other tablet besides the iPad that has VGA output and is something I would recommend for teachers or anybody else who gives presentations and wants to have a minimal yet functional setup with them.
Read full reviews of the Transformer at LaptopMag, AnandTech, Carrypad (Part 2 here) and Engadget. If you're interested in the device I suggest heading down to CF King and have a go at the device. One of their staff, Poh, is a nice and friendly guy there, I'm sure he could help you out.
For other innovating / whacky tablets from ASUS keep a look out for the 10" Eee Pad Slider, 7" Eee Pad MeMO 3D or the 10" pad and 4.3 phone that make up the Padfone. One thing is for sure, none of ASUS Android tablets are typical. As the fore father of the netbook with the Eee PC I salute you!