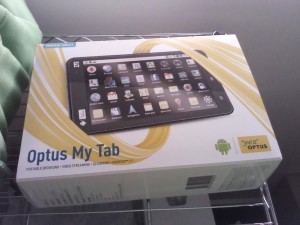 I managed to pick up an Optus MyTab (which is a carrier branded ZTE V9) for AUD$129 back in September and have been thoroughly happy with the purchase. The MyTab is a 7″ Android tablet with full phone capabilities and I bought it to test the 7″ form factor for use as a tablet as well as ereader. I found myself mainly using it as a MiFi or a portable hotspot device that will share your mobile (3G) data over WiFi.
7″ is big yet small
The V9 is small in size and portable, with it easily being put into a back pocket or handbag/man-bag. I found 7″ to be a good size for reading text and saved web pages via ReadItLater however browsing websites may be a hit and miss experience. Since the device doesn't have multi-touch, it was harder to zoom in and out of web pages that are not formatted for mobile, thus it may be considered too small to view websites in full 'desktop' mode comfortably. The width of the device was also just small enough for me to hold it comfortably in one hand. Obviously this will change from person to person but the Galaxy Tab (and Galaxy Tab 7 Plus) are wider and it is not comfortable for me to hold.
Weight is good but could be better
I also found the device a bit heavy when holding it up in one hand above my head while lying down to read: I've had some near misses of dropping the device on my head. The only 7″ tablets that I know that are lighter all come from Samsung (Galaxy Tab at 380g, Galaxy Tab 7.0 Plus at 345g, Galaxy Tab 7.7 at 340g).
Resistive touch gets old over time
Some apps will have problems with the resistive screen which does not support multi-touch. Gestures like pinch to zoom are not possible and thus apps that rely on this may have problems: there is no way to zoom in or out in Angry Birds. For non-game apps there should be less of an issue as a zoom in/out control should appear; however I recently noticed it stopped showing in Opera Mini thus the only way to zoom in and out is to double tap the screen. While capacitive touch is desirable, resistive is sufficient for most of my use cases.
On a side note, the resistive screen does not have a uniform responsiveness: on some parts of the screen it is pretty responsive requiring only a light press or touch to active, while other parts require a heavier press. This could just be an issue with this device but is something to note when looking at resistive devices.
No Speed Demon
Having only a 600MHz processor means that this device is not meant for high end apps/games and can be slow at rendering web pages and opening complicated PDFs (eg with embedded vector images) but it is possible albeit slow at times. Not an ideal situation and not a good reading experience for graphic filled PDFs like comics. It also doesn't support Flash in the browser.
The Camera is so-so
Quality is not great but I believe it is there just to meet the Google requirements in order to get Google apps on the device. The Android Market is highly important has some cheap tablets do not have it and make getting apps more difficult than it should be.
Sample photos (3.1MP: 2048×1536)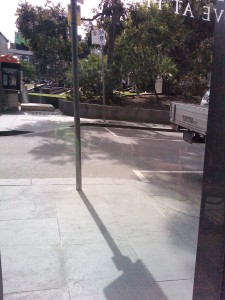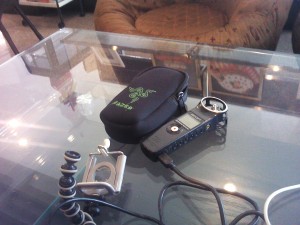 Phone/Hotspot Use
While it is possible to use as a phone, it can be a bit cumbersome as it only has speaker mode unless you use a headset – similar to the Samsung Galaxy Tab. I do like Android's portable hotspot feature for the device and is something I use very often, which is one thing I dislike about the iPad w/ 3G that doesn't support Internet tethering.
Battery Life is pretty great
Using as a wireless hotspot sharing 3G over WiFi to my phone: can get over 8 hours of continuous usage (tablet mostly idle in bag but access Internet on phone). I recently put the device into a drawer for several days and accidentally left 3G mobile data on and it still has 90%+ of battery left.
Notification lights are awesome
The notification light, located at the bottom-right corner of the device, has 2 colours: green (to indicate > 90% battery when it is charging) and red to indicate unread notifications or that the device is currently charging. It is truley a joy knowing if you have unattended notification without switching on the device to check: a productivity plus.
Weird Audio
The MyTab comes with some Dolby sound enhancements that lets you specify settings for different media that you play, similar to an equalizer, but I found the default settings set the volume too low and sounds distorted. I had to create a custom profile to be able to listen to audio properly.
Charging via microUSB is fantastic
The device comes with a 5V @ 1.5A charger but it can be charged with a standard microUSB cable. With most phones having microUSB connections (the EU has even standardized this for consumer and environmental reasons), the convenience of having only to bring a single cable and charger to charge your devices is so great. I did find that the MyTab does charge slowly over USB (connected to a computer) when tethering 3G data (something my Optimus One is not capable of: it discharges slowly as power drain is higher than charging power)
Summary
While the device isn't fantastic, it is a good deal for the price: cheaper than a dedicated MiFi device but with much more functionality. I certainly am very happy with this device even though I doubt it will get anymore official updates but it has made me comfortable with the smaller 7″ form factor and I'll will be looking out for a similar 3G tablet but with better specs in the future.
Good
Cheap clearance/end-of-life price
Great hotspot battery life
microUSB charging
Bad
Resistive touch
No updates
only 160MB+ for apps
slow CPU: slow opening documents, no Flash in browser
Ugly
Screen does not have uniform responsiveness
Specifications
7″ 800×480 resistive screen (non multi-touch)
Android 2.2
600MHz CPU
~160MB for apps
RAM: 400MB+
3 MP rear camera (no front camera)
3G (full SIM slot)
microSD slot (supports up to 32GB) (comes with 2GB card)
microUSB for charging and computer connection
3400mAh battery
Notification light, Accelerometer with auto rotate
Connectivity: WiFi 802.11b/g, Bluetooth 2, Tri band UMTS (900, 1900, 2100MHz), Quad band GSM
Weight: 403g
Dimensions: 192mm x 110mm x 12.6mm