Among my usual habits, I will check availability and prices of phones on Incomm and I was surprised to see the Xperia Mini Pro going for B$378.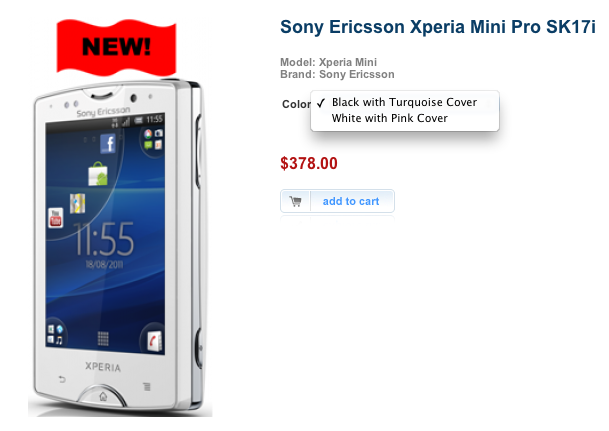 This phone seems to be a phone I would buy, if I didn't buy my LG Optimus One, as a great budget Android phone which seems to have the least compromises. Check out the video that I managed to get at Incomm as I played with the device.
Notable Specifications
Android 2.3 Gingerbread: the current major version of Android of phones
Connectivity: 3G (HSDPA 7.2Mbps, HSUPA 5.76Mbps), WiFi 802.11 b/g/n, Bluetooth 2.1
3" HVGA (320×480) screen: a bit small in size but good resolution that is widely supported by all apps
Slide out landscape QWERTY keyboard
1GHz Snapdragon CPU with Adreno 205 GPU
512MB RAM
400MB for apps (according to GSM Arena): a bit small but acceptable for a budget phone and sadly (for Arc users) it is the same amount as the Arc based on Sony's specs which says up to 320MB (Arc vs Mini Pro)
5MP rear camera with autofocus, flash and 720p video recording (auto focus while recording video, recorded in mp4 encoded with h264, aac)
VGA front facing camera for video calls
Supports Adobe Flash
Plays 720p videos (mp4 encoded with h264,aac)
Can open PDFs and Microsoft Office documents (doc,docs,xls,xlsx,ppt,pptx)
microSD support up to 32GB
1200mAh battery
Full specifications at Sony Ericsson or GSM Arena
I really like that this budget phone seems to have practically no compromises for a budget phone: there doesn't seem to be any major show stoppers. Most budget phones will have no front facing cameras and won't have cameras that can record 720p. A budget phone won't have a keyboard nor a 1GHz CPU. The CPU couple with a GPU and sufficient RAM should ensure this device is smooth and usable for the regular user.
The main issue is the small 3" size of the screen (iPhone: 3.5", Optimus One & Wildfire S: 3.2", Galaxy Mini: 3.14"): a small size coupled with a high resolution may make some text small to read and will make using the onscreen keyboard a bit difficult. Thankfully there is a physical keyboard on the Xperia Mini that should help alleviate this (as long as the keyboard is good and usable). Also the smaller 1200mAh battery (vs 1500mAh of the Optimus One) may give it less battery life, but that also depends on the amount of work being done: with a better CPU, the same amount of work may require less energy from the Xperia Mini. I guess we'll just have to wait for more in-depth reviews with battery life scores and this is the main unknown factor at the moment. Another compromise would possible be the UMTS frequency band support with it only being dual (900/2100) or triband (800/1900/2100) depending on where it is purchased but I don't think this will affect many. Most of these issues/compromises are acceptable for a budget device.
With that said, I think I could tentatively highly recommend this phone to users but only after they take a look at it and try to use the keyboard and check to see if the text is too small on the device; and also after some battery life tests are published – all the features are of no use if the battery life is bad. From my use with it, the screen and text size seem fine but my fat thumbs did have a bit of an issue with typing. It could play 720p video, Flash video and even edit office documents. Overall a snappy device and I'm just very impressed at what Sony Ericsson managed to pack on this device hitting all the right check boxes giving the user minimal compromises. Great job Sony Ericsson, now improve your higher end devices!
Sample Photos (note front camera was covered with a thin plastic film):