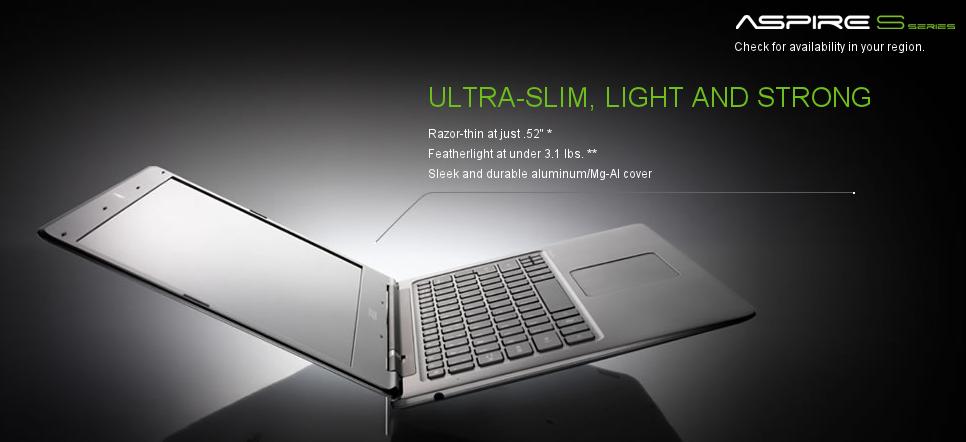 I stumbled upon the Acer Aspire S3 at Netcom at the Mall and it being the first Ultrabook in Brunei, I just had to take a look and play around with it.
It is a 13″ ultrabook which a form factor similar to the 13″ Macbook Air meaning it is thin and light but without an inbuilt DVD drive. Ports are similar to the Air with two USB 2.0 ports, one full HDMI port, SD card reader and a 3.5mm headset jack.
Based on reviews (LaptopMag, The Verge, Engadget) I knew that a few things to look out for were the keyboard, cursor keys as well as the touchpad. I found the keyboard to be fine but the touchpad was hard to press. It has no physical buttons but pressing the lower left or lower right sections of the pad acted as left and right mouse clicks. It can be configured to "click on tap" as a usable workaround although this still isn't ideal for drag and drop actions. The cursor keys are indeed the smallest I've seen: 3 cursor keys side by side is of the same length as a single Shift key. This is surely too small for typical use.
The quick resume worked as advertised, with the laptop being on by the time the screen was at a viewable angle. The base (i.e. cheaper) model comes with a hybrid drive which combines a solid state drive with a conventional hard disk drive to try give the best of both worlds: SSD for faster disk access (faster boot up, stand by, resume times) and the typical HDD gives you space to store all your files as SSDs are expensive and have less capacity.
All in all I liked form factor of the device but was initially put off by the price of B$1778 which I was told as the based model price. However after the recording I found out that the price of B$1778 was for the higher specification model, not the base model. According to Concepts' pricing the base model is B$1188 which is much less than the B$1728 or B$1328 for a 13″ or 11″ MacBook Air thus it may be a good deal for those who want a thin and light but capable but with a large enough screen for viewing your content. Do have a look at the device and take into account that this is a first generation device and that Acer competes more on price than actual quality.

The Acer Aspire S3 spotted at Netcom in The Mall for B$1778 (mp3)
Specifications
13.3″ display (Resolution: 1366 x 768)
1.6 GHz Core i5 / 1.7GHz Core i7
4 GB RAM
300GB HDD with 20GB SSD / 240GB SSD
Webcam (Resolution: 1280 x 1048)
Connectivity: 802.11b/g/n, Bluetooth 4.0
3.5mm headset jack
Ports: 2-in-1 card reader (SD, MMC), 2 x USB 2.0 ports, 1 x HDMI